Are you an adventurous soul looking for a different plan this Christmas? Dare to spend the best Christmas ever in Cancun in the company of your loved ones, whether friends or family. Cancun is a unique and paradisiacal destination where you can experience the Christmas holidays in a very different way, replacing the snow and cold with beautiful turquoise waters and the bright sun that illuminates every sunset.
Christmas and New Year's Eve at an All Inclusive Resort in Cancun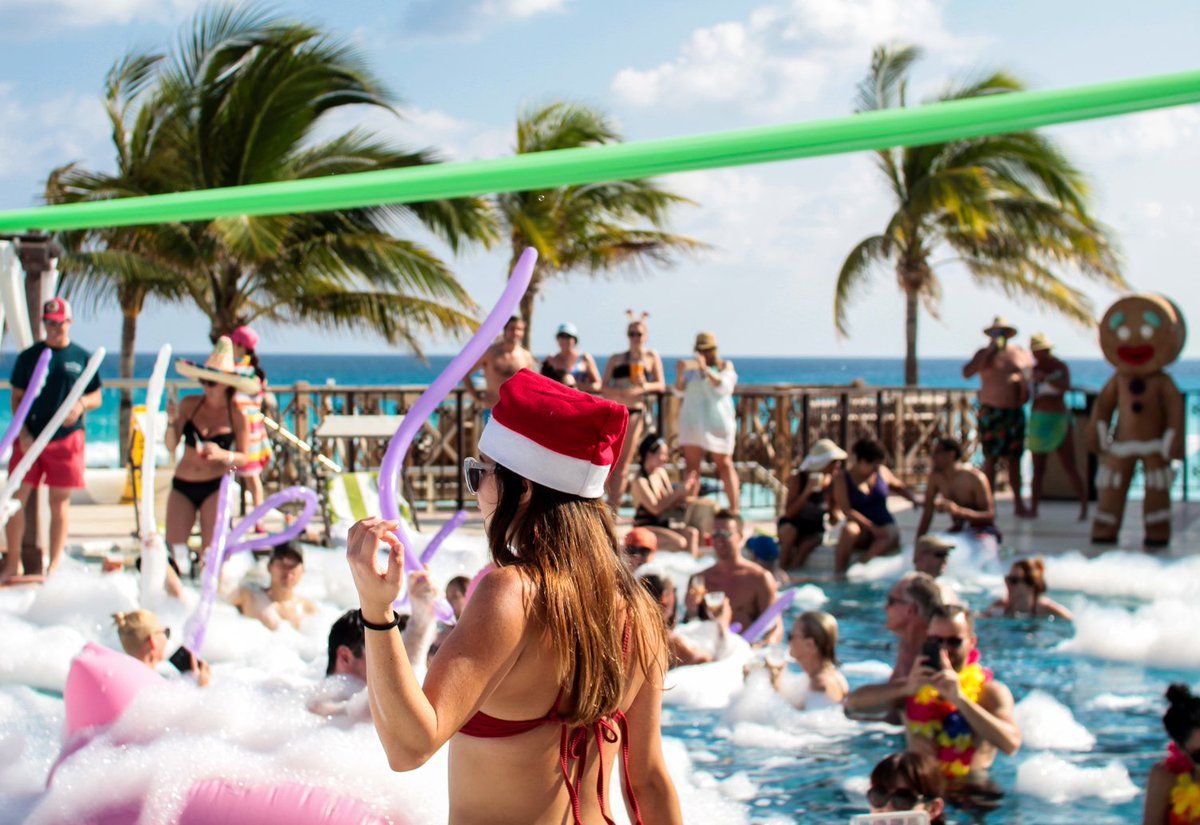 There is no better plan than spending Christmas and New Year's Eve at an all-inclusive resort in the Cancun Hotel Zone. This will ensure you are well taken care of during your holiday vacation, and you won't have to worry about food and entertainment. Staying at a resort allows you access to the best services and restaurants this season.
A family or friends getaway at a resort in Cancun will make you feel amazing thanks to the Christmas atmosphere that these resorts offer. Holiday decorations and great buffet dinners for Christmas and New Year's, accompanied by fireworks and many themed activities, will provide you with great fun moments.
Here are some of the best all-inclusive resorts in Cancun's Hotel Zone, where you can enjoy the best of the holiday season:
Le Blanc Spa Resort
The Grand at Moon Palace
Live Aqua Beach Resort Cancun
Dreams Vista Cancun Golf & Spa Resort
Coral Level at Iberostar Selection Cancun
Secrets The Vine Cancun
Nickelodeon Hotels & Resorts Riviera Maya
Fiesta Americana Condesa Cancun All Inclusive
Holiday Festivities in the heart of Cancun City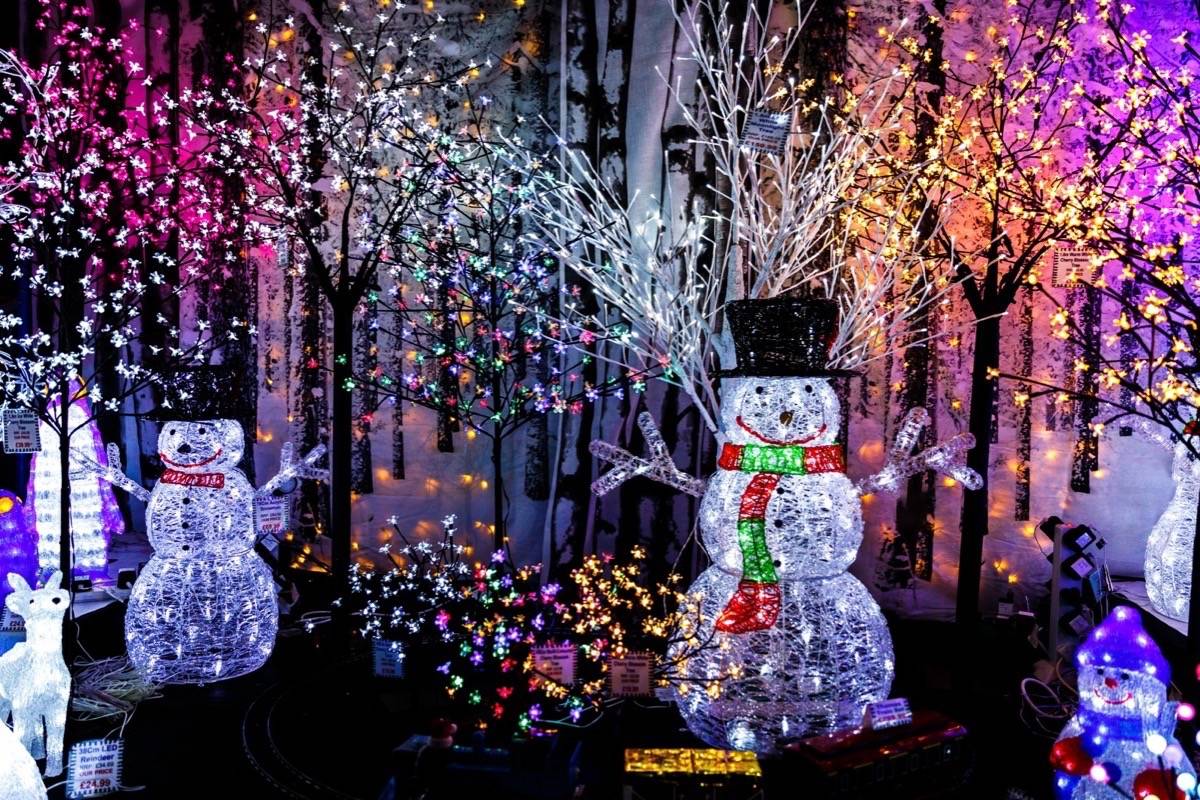 In downtown Cancun, you can't miss the Christmas spirit as you'll find an atmosphere typical of this season thanks to its spectacular decorations, music, and the attitude of the citizens, who love to celebrate this time of the year. Although Christmas is felt throughout December in Cancun, you can witness how hundreds of businesses decorate their premises with themed elements, paying homage to this beautiful time of the year.
Walk the streets of Cancun full of lights, take pictures with Christmas trees in every corner of the city, and witness countless nativity scenes and other Christmas decorations. Find live shows and spectacles throughout the streets and posadas and pilgrimages.
Restaurants for Christmas dinner in Cancun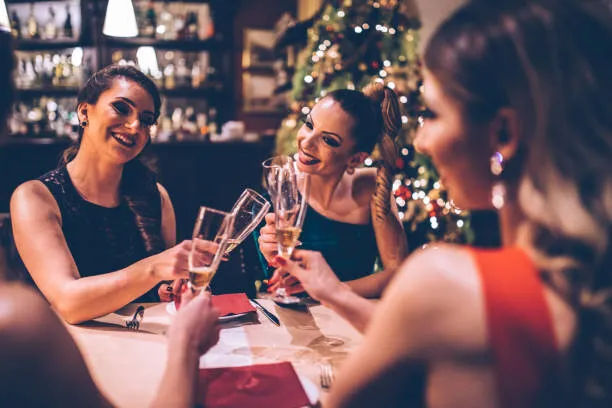 During your visit, enjoy the fantastic international gastronomic offer that Cancun has for you at this time of the year. Cancun is a city full of excellent establishments to have an unforgettable Christmas and New Year's dinner; try restaurants like:
Marakamé, which offers a Christmas buffet on December 24.
La Paste Care, where you can delight your palate with a three-course dinner.
Sirloin Stockade, with its famous buffet, for an exquisite Christmas dinner.
Sirloin Stockade, with its popular buffet for an exquisite Christmas dinner.
Other nearby restaurants include Bubba Gump Cancun, Lorenzillo's, and Crabhouse.
Christmas Shopping in Cancun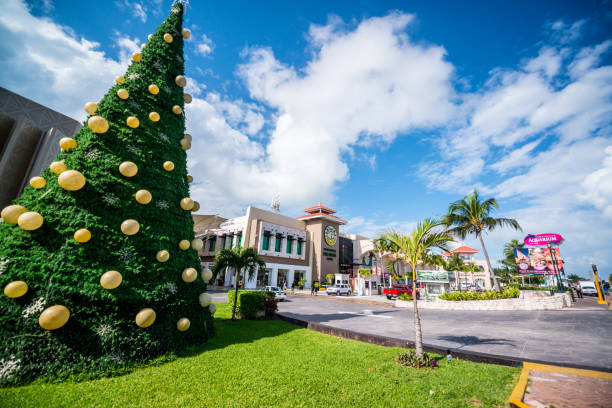 During this time of the year, Cancun is the ideal place to go shopping for the best Christmas gifts for the exchange. Find shopping malls like La Isla Cancun Shopping Village, where you will find hundreds of national and international stores in one place, such as The Palace Boutique, Ultrafemme, Zara, Nine West, Adidas, Lacoste, Tommy Hilfiger, Mac, Puma, among others.
On the other hand, Quinta Avenida in Playa del Carmen is also an excellent option for finding the perfect gift since it has a wide variety of world-famous brands.
Other attractions to spend Christmas in Cancun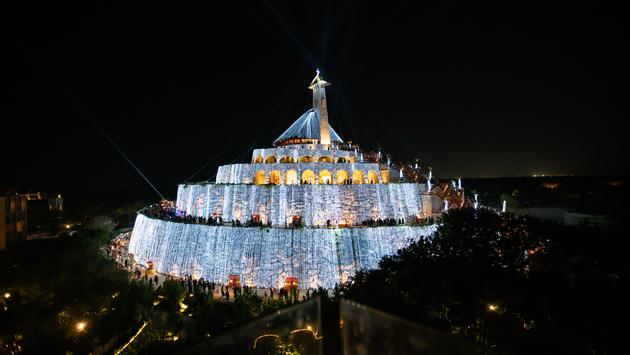 When visiting Cancun during Christmas, you can also enjoy other attractions, such as its beaches, where you can relax since the temperature is quite pleasant in its waters. For example, enjoy Playa Delfines, El Faro, or Isla Blanca, where the waters are usually calm and friendly.
Visit the adventure parks near Cancun, such as Xcaret Park, which has more than 40 different attractions full of adrenaline and fun. Dive into cenotes at Rio Secreto, and visit nearby ruins in the surroundings, such as El Castillo in Tulum and Coba.
If you like a party atmosphere, especially during New Year's Eve, take advantage of the most famous nightclubs like Coco Bongo, Mandala, The City, and more. Try the best drinks and dance non-stop until dawn to welcome 2023 with lots of fun and the best company.
Tour Cancun during these Christmas festivities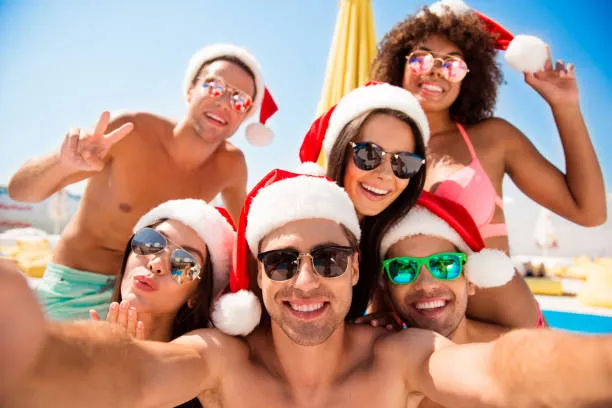 To make your trip a better experience, remember to plan an itinerary with all the places you want to visit and the routes you will have to take to get to them quickly and easily. The most important thing is to ensure you have adequate transportation from Cancun International Airport to your hotel and from your hotel to any attraction near Cancun that you wish to visit.
Among the best recommendations for touring Cancun are the services of Private Transportation in Cancun, which offer safe and direct trips guided by a trained driver, all at a very affordable price. On the other hand, hiring a Car Rental Cancun service is also a highly recommended option, especially for the freedom of travel that it offers, as well as the beautiful views you can enjoy during your tours in the company of your friends or family.
Don't wait any longer and start planning your Christmas and New Year's vacations in Cancun, a unique destination to give a twist to the Christmas festivities!