Shuttle from Cancun to Tulum Services
Enjoy the best Transportation from Cancun to Tulum with eTransfers.
Booking with eTransfers will allow you to live the experience of traveling comfortably and safely onboard an exclusive van for you and your companions. All our vehicles are continuously inspected to offer you the security you and yours deserve.
In addition, in our reservation process, you can acquire extras that will make your transfer more pleasant.
Our primary goal is to offer you the best transportation experience. Therefore, get personalized attention throughout your trip with us if you have any questions regarding the Cancun to Tulum Shuttle. Get in touch with us, and one of our representatives will gladly assist you.
How to get from Cancun to Tulum
The eTransfers service is the easiest way to get from Cancun to Tulum, it's a unique experience, and our excellent attention, comfortable vans, and unbeatable prices make us the best transfer company in Tulum.
All our shuttle from Cancun to Tulum services are private, so you won't have to wait for other customers or make unnecessary stops on your way to your hotel, Airbnb, or any other destination in Tulum.
This great destination is located 118 kilometers from the Cancun airport. It's a paradise that offers different experiences for each of the travelers, from getting in touch with nature to the mysticism of the Tulum ruins.
The only direct service to get from Cancun airport to Tulum is through a Cancun to Tulum shuttle. Taking a bus requires a stop in Playa del Carmen. Taxis are expensive, as they charge with a meter, raising the fares.
Cancun to Tulum by Shuttle
Pre-book your ride from Cancun to Tulum online in a shared shuttle vehicle for $740 MXN (USD $37) per person One-Way.
Book a seat in a Shuttle with eTransfers if you travel alone or group.
Vehicles are comfortable, sanitized, air-conditioned, and always clean.
Our Clients Reviews - Cancun to Tulum Shuttle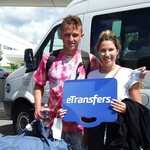 The best Shuttle from Cancun to Tulum, they definitely have spectacular customer service. Besides, they were very friendly when we called to book a transportation service. They didn't make us wait, in less than 10 minutes we had our reservation ready!. Personally, I loved the service entirely.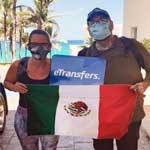 From the moment they took my data for the reservation, everything flowed smoothly. I will book again on my next trip to Tulum!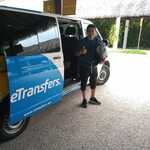 We liked the attention we received when we got a shuttle from Cancun to Tulum service and the measures they took for our health care. As a result, we felt very safe and comfortable.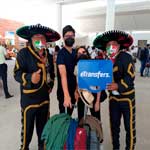 The ride was really fast, comfortable, and safe. The driver was very kind and attentive all the time. The best Cancun to Tulum Shuttle experience.
Cancun to Tulum Shuttle
And other destinations you can get to with eTransfers
Cancun
Cancun is one of the favorite locations for travelers visiting the Caribbean. The beaches and beautiful views are two of this city's many qualities.
Tulum
If you are looking for a day of relaxation and wilderness, Tulum is the ideal place. In addition to its incredible locations, you will find the best-rated eco-hotels on the Internet in Tulum.
Playa del Carmen
Playa del Carmen is a young and vibrant city. So you can enjoy a party atmosphere and fun 24 hours a day. So don't miss a visit to this fabulous destination.
Akumal
Visit Akumal's ecological parks. Have fun diving in the crystal clear waters and marvel at what this ecological reserve offers.
Why is eTransfers the best agency to get a Private Shuttle from Cancun to Tulum?
We are an agency specialized in offering the best transportation service from Cancun to Tulum, that is why we have the best units in the industry. This way, you can reach your destination safely and efficiently.
We have strived to be the number one Cancun to Tulum Shuttle agency. This has made us known in various cities near Tulum as Cancun, Playa del Carmen, and even Akumal and the rest of the Riviera Maya.
In addition, with us, all your services are entirely private, as well as the direct attention you will have with our customer service advisors. In eTransfers, you can modify your trips according to your tastes and travel needs.
We are currently the agency with the best reputation in transportation services from Cancun to Tulum. Find out why thousands of customers prefer eTransfers to travel to their favorite destinations in Tulum.
Safe Transfers
Professional Drivers
Punctuality
Best experiences aboard
Personalized service
24-hour attention
Best deals
Comfort
Is eTransfers the best way to get from Cancun Airport to Tulum?
Proudly we can assure you that yes! We are the safest and most reliable agency to reach any destination in Tulum and its surroundings with the quality of service you deserve at the best price in the industry.
eTransfers has more than 8 years of experience helping travelers from Cancun to Tulum, and we have become the company of reference for the satisfaction guaranteed in each of our private transportation services.
All these years have allowed us to develop and improve our processes to provide you with the most comfortable and safe trip. Have the security of contracting with us, a legally constituted company, where we take care of you and your money.
All our transfers to Tulum include flight monitoring, so our staff will be ready as soon as you arrive at the Cancun International Airport (CUN).
SAFE BOOKINGS
All your bank details and information will be confidential and secure. When you book with us, you can choose your payment method and finalize it with Paypal or Stripe.
LOW PRICES
We know how expensive it can be to move around the city by cab or public transportation, so at eTransfers, we offer the best rates in all our transportation services.
BEST TRANSPORTATION SERVICE
With eTransfers, you will not only get discounts and affordable rates, you can also get the best service in constantly inspected vehicles. For us, the most important thing is your comfort and safety.
Shuttle from Cancun to Tulum Service Price List
Destination
Private Transportation
Taxi Service
Luxury Transportation
Small Groups Transportation
Private Transportation
OW
RT
OW
RT
OW
RT
OW
RT
Bahia Gran Principe Akumal
$ 69.50
$ 139.00
$ 87.00
$ 158.00
$ 135.00
$ 270.00
$ 141.60
$ 283.20
Bahia Principe Tulum
$ 69.50
$ 139.00
$ 87.00
$ 158.00
$ 135.00
$ 270.00
$ 141.60
$ 283.20
Grand Bahia Principe Tulum
$ 69.50
$ 139.00
$ 87.00
$ 158.00
$ 135.00
$ 270.00
$ 141.60
$ 283.20
Tita Tulum City
$ 69.50
$ 139.00
$ 87.00
$ 158.00
$ 135.00
$ 270.00
$ 141.60
$ 283.20
Tulum
$ 69.50
$ 139.00
$ 87.00
$ 158.00
$ 135.00
$ 270.00
$ 141.60
$ 283.20
Dreams Resort Tulum
$ 69.50
$ 139.00
$ 87.00
$ 158.00
$ 135.00
$ 270.00
$ 141.60
$ 283.20
Dreams Resort Tulum
$ 69.50
$ 139.00
$ 87.00
$ 158.00
$ 135.00
$ 270.00
$ 141.60
$ 283.20
Kore Tulum
$ 69.50
$ 139.00
$ 87.00
$ 158.00
$ 135.00
$ 270.00
$ 141.60
$ 283.20
Grand Bahia Principe Sian Kaan
$ 69.50
$ 139.00
$ 87.00
$ 158.00
$ 135.00
$ 270.00
$ 141.60
$ 283.20
Pavoreal Beach Resort Tulum
$ 69.50
$ 139.00
$ 87.00
$ 158.00
$ 135.00
$ 270.00
$ 141.60
$ 283.20
Prices are in USD, and these may vary depending on the season and the availability of the vehicles.*
Cancun to Tulum best transportation options for 2023
| TRANSPORTATION METHOD | LENGTH OF TIME | ONE WAY PRICE |
| --- | --- | --- |
| Cancun to Tulum Shuttle | 2 hours | $80 |
| Car Rental | 1.5 hours | $25 per day |
| Shared Shuttle | 2.5 hours | $24 |
| ADO Bus | 2.5 hours | $18 |
Prices are in USD they may change according to season and availability*.
Cancun to Tulum Shuttle FAQ's
Is Cancun to Tulum Shuttle safe?
Of course, it is safe!

eTransfers is the safest transfer service in Cancun, Tulum, and the Riviera Maya. It offers a lot of guarantees that no other company provides; that's what makes it not different from the rest.

We are cautious about the safety of our passengers. We know the great value that each of our customers has; for us, you are not just another customer, and we take care that your transfer to Tulum is as safe as possible. In addition, each of our private drivers undergoes rigorous psychological, driving skills, and trust evaluations to ensure that you are in good hands.

This is an important point because we also include flight monitoring; from the moment you board the passenger plane, we will be prepared for your arrival. In addition, we monitor the vans during your transfer to always have control of your route and ensure a safe and smooth ride.
Which Transportation service is right for me?
Whatever the reason for your trip, we have the right service for you, we know that every traveler is unique, and we have the ideal service:

One Way: This service is exclusive for those who only need to go from the airport to their hotel. It does not include transportation back to Cancun, although you can request it at any time with a consultant or on our website.

Round trip: Mainly consists of taking you from Cancun airport (CUN) to the destination of your choice and then picking you up at your destination to take you to the airport. We will drop you off at your hotel, and the return transfer to the Cancun International airport (CUN) will be scheduled.

Open service: As it is an open service, you can go to the places of your preference and tour the most famous attractions at your own pace, the price of this e per hour. This service is beneficial if you want to visit many places during your trip.

Hotel to hotel: It is advantageous if you decide to change hotels, we will pick you up at the hotel where you are staying at that moment and transfer you to your new hotel.
What does my transportation include?
By choosing eTransfers, you will enjoy incredible additional benefits to your private transfer, such as:
Professional bilingual drivers, our drivers are trained to perform any additional instruction you give us. This way, there will be no communication problems.
If your flight is delayed, we do not charge additional fees for delays because when you board your flight, our customer service will monitor it. We can be attentive to any changes in the arrival of your flight so that as soon as you land, we are ready to take you to your destination.
You will receive a Meet & Greet at the airport. This way, it will be easy to identify us, and thus load your luggage and start your transfer to your selected destination as soon as possible.
We know that the weather in Cancun can be hot, so our vehicles have air conditioning. Your experience will be more comfortable and enjoyable during your transfer to Tulum.
When you book with us, you will also get Travel Insurance, which will protect you in case of any incident.
Air-conditioned. Travel comfortably to your destination in our fully equipped units.
What can I visit when I book a transfer to Tulum?
Every year thousands of tourists come to the Mayan Ruins of Tulum, whose main building, "El Castillo," is one of the most symbolic sites of the Riviera Maya. Near this archaeological zone is one of the most beautiful beaches of the Mayan Riviera. Well known, Playa Paraiso is a beach with crystal clear waters where you can swim while enjoying the beautiful view from the Tulum Ruins.
If you are looking for a private beach where you can be at peace and enjoy the sunset, choose Playa Pescadores. It is right next to Playa Paraiso, is not so famous, and therefore remains almost empty all year.
Another of Tulum's attractions is the cenotes, large water wells of great depth, which for the Mayans, represented the entrance to the underworld. They are one of the most famous attractions of the Riviera Maya. You can get to know them by requesting an open transfer to Tulum in case you also want to explore some of the Mayan ruins or the beautiful beaches of Tulum.
How far is Tulum from Cancun airport?
The distance between these two destinations is approximately 133 km (70 mi), equivalent to 1 hour and 30 minutes of travel from Cancun airport. It considers the traffic that can be found and going at speed within limits set on the road signs.
Travelers sometimes don't realize how close Tulum is to Cancun International Airport (CUN) and think the trip can be tedious. However, the reality is that time on the road is short, making it one of the best destinations to travel from Cancun and enjoy all that Tulum offers.
Is the Cancun to Tulum shuttle the best way to get to Tulum?
We are sure that what you are most interested in when you book a private transfer is that you arrive at your destination in the fastest and safest way, and why not? In an economical way.
That's why, in addition to the incredible rates we have implemented in our transfer to Tulum. We also care that each of our customers receives completely personalized attention, which will be available to them 24 hours a day, 7 days a week. As our customer, you don't have to worry about the time you make to reserve; our operations team and customer service will always be attentive to your needs.
You will surely want to enjoy each place without depending on more people to share the airport transfer with you. That's why our transfer goes beyond a conventional shuttle service. As a result, we promise that going from one place to another in the city will be even more accessible and more pleasant than you would have thought.
How to get from Cancun airport to Tulum?
Getting from Cancun airport to Tulum is very easy since the airport is just 118 km (73 mi) away from Tulum, approximately 1 hour and 30 minutes driving through Highway 307. There are many ways and means to get to Tulum. Since Uber is unavailable in Cancun, you can take an ADO bus, or taxi, rent a car, or get a private transfer. Don't be afraid that the trip may be tedious since Tulum is very close to Cancun.
ADO Bus
Taking an ADO bus to Tulum is one of the cheapest options. Still, it can also be really tedious, especially if you are traveling with a lot of luggage. You can take your bus just outside the different terminals at the airport. However, there are limited schedules to go to Tulum. ADO buses go directly to the bus station and do not make stops in hotels along the way. Another option is to go first to Playa del Carmen and take another bus to Tulum. This type of transport stops in Puerto Morelos and Playa del Carmen.
Taxi
Although more comfortable than waiting for public transportation, taking a taxi can be very expensive. The price of the taxi service is by distance, and if your luggage is bulky, they could charge some extra. In addition, most drivers are not bilingual, and this can make communication with them difficult.
Car
Another way to get around Tulum is to get a car rental. On arrival at the airport, you can find most car rental agencies, and booking your car in advance is recommended, especially in the high season. Many tourists use this service, even though it is a bit tedious to look for routes, even getting lost and losing time in finding the right road. If you travel to de-stress, using a car rental will be a headache.
Private transportation
If you want to save money without losing comfort or safety, consider a Cancun to Tulum shuttle. Currently, it is one of the most popular services since it is very comfortable, way better, and safer than taking a taxi. Furthermore, with a Cancun to Tulum shuttle, you obtain incredible benefits in addition to your reservation and private transfers.
Your service includes meet and greets at the airport, so you will have no problem finding the driver. In addition, you can book your transfer service in advance online, so you avoid the stress and hassle of searching for the most convenient transfer option at the last minute.
You will find different ways to go to Tulum from Cancun; however, the best option to get to this city is a shuttle from Cancun to Tulum, where you can move quickly
What activities can I do in Tulum?
During your trip, there will be many activities that you can do in this paradise. Tulum is also known for having a relaxed beach atmosphere. In addition, it is famous for its bicycle tours, where you can get to know many areas of the city and its parks while having fun and learning more about the Mayan culture.
One of the most recommended activities is to visit the nearby cenotes and get to know the important tourist sites of the destination, such as the ruins of Tulum. Here, you can enjoy a guided tour to learn more about the Mayan culture, its astrologically planned architecture, its traditions, customs, and the lifestyle which the Mayans got used to for hundreds of years.
Remember that many activities in the city have precise schedules. For example, places like parks and beaches and many attractions are open from 6 am to 5 pm (there are exceptions), and the price may vary by season. Therefore, it is recommended that before your arrival, you spend some time researching the activities you are interested in and their schedules. After that, it is straightforward getting to the Tulum hotel zone and staying in a hotel in Tulum.
Which other private transfer destinations are offered by eTransfers?
eTransfers is not available only to take you from the Cancun International Airport to Tulum, but you can also use our service and travel to any place in the Riviera Maya that you want to know.
We strongly recommend you to book your Tulum Shuttle in advance to avoid any inconvenience with the availability of the vehicle you need.
Taxi, transportation, transfers from Cancun to Tulum - Schedules, prices and information

| | |
| --- | --- |
| Departing from | Cancun International Airport (CUN) |
| Destination | Tulum |
| Price | $69.50 USD (One Way) |
| Trip Duration | 1 h 40 min |
| Distance | 81.46 mi (118 km) |
| Schedules | 24 hours / 7 days |
| Service type | Private |
| Company Name: | eTransfers |
Prices may vary according to season and availability*
Trips from Tulum to Cancun must be scheduled 3 hours in advance. The duration and the cost of transportation are the same.