One of the best places to shop in Cancun is La Isla Shopping Village, an outdoor mall in the Hotel Zone. This mall is designed to give you all the amenities of a modern shopping mall. The shopping experience in the plaza is truly unique because of the beachfront location.
You can find almost anything at La Isla Shopping Village, as it features a wide range of international brands and luxury boutiques, plus a huge interactive aquarium to keep the little ones entertained.
La Isla Shopping Village also features a movie theater, restaurants, cafes, a Ferris wheel, and much more entertainment.
Discover more in our post What to do in La Isla Shopping Village Cancun?
2. Puerto Cancun Marina Town Center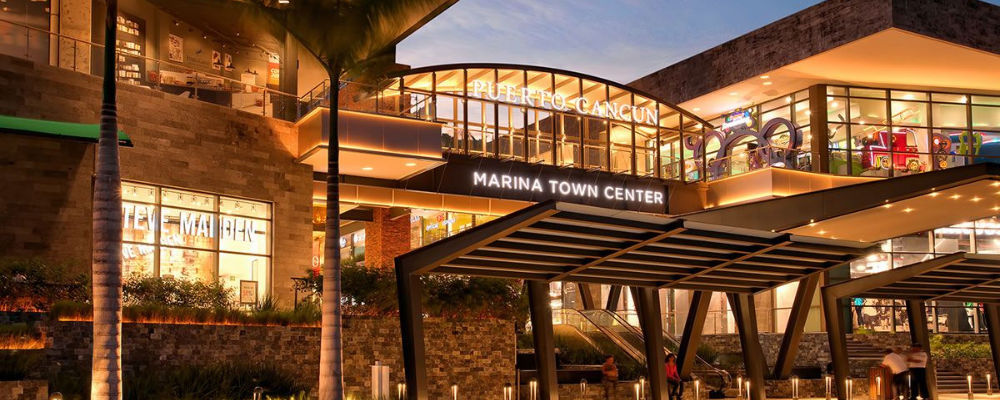 If you are wondering where to go shopping in the city, one of the largest shopping centers in Cancun is Puerto Cancun Marina Town Center located in the Hotel Zone.
This is an open-air establishment, both a shopping mall and a marina, which offers international brands such as H&M, Zara and Best Buy, as well as other boutique stores.
You can also watch movies at Cinépolis, satisfy your cravings at one of its independent restaurants and cafés, or visit the food court, which also has beauty salons, barbershops and a gym.
3. Plaza Las Americas
Next to the Malecon Americas is Plaza Las Americas, one of the oldest shopping centers in Cancun. Although the number of people in this mall has decreased over the years due to the options that arise in the city, this is still one of the most popular places you can't miss.
Here you can find popular brands like Old Navy and H&M, plus there are many other clothing and beauty stores in the mall, as well as department stores, a nail salon, a first class movie theater and a pet store. You can also find plenty of restaurants and cafes.
4. Plaza Kukulcan
Plaza Kukulcan is a quiet place where you can buy clothes, jewelry, and beauty products or go for dinner with your family or partner. If you are looking for some souvenirs, this mall has excellent options.
Plaza Kukulcan has many different dining options, such as Ruth's Chris Steak House, Tequila Grill, Taco Beef, and world-class dessert stores such as Haagen-Dazs and Baskin Robbins.
5. Luxury Avenue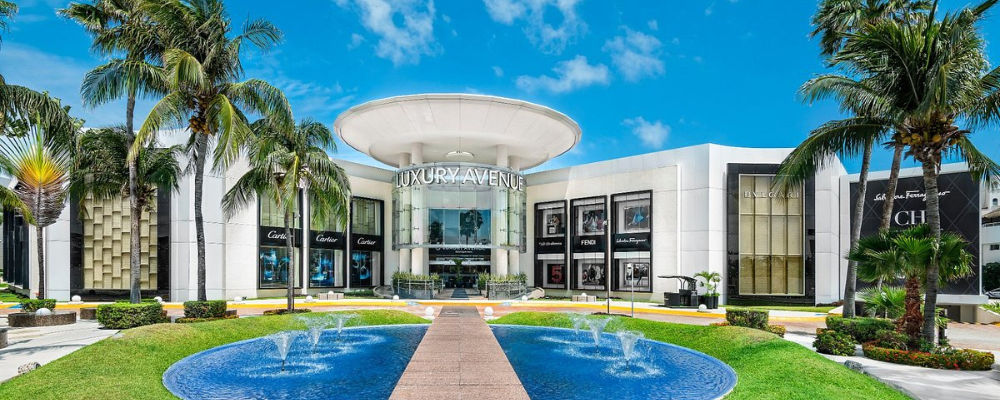 Luxury Avenue is a rather exclusive shopping mall where you can shop for luxury and high-end brands; some of them are Fendi, Burberry, Mont Blanc, Coach, Cartier, and Swarovski.
It also has many high-end restaurants and bars, which you can visit when you are tired of shopping.
If you have children and want to go shopping without worries, you can take advantage of the mall's childcare facilities. You should also know that this mall has a tax-free module to get a tax refund if your purchases are over $67 USD.
6. Las Plazas Outlet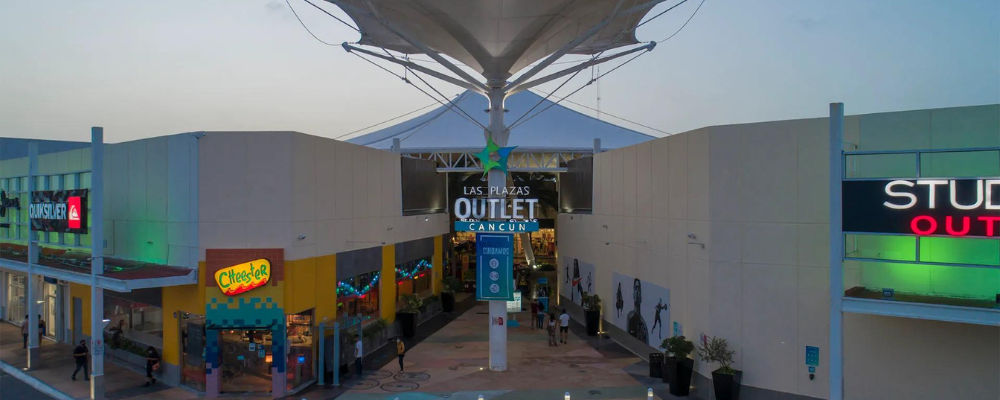 If you are on Andres Quintana Roo Avenue in downtown Cancun, a good option for shopping is Las Plazas Outlet, or Plaza Outlet. This is an open-air mall that offers fantastic discounts on a wide range of brands and products.
You can start your day in this wonderful mall by eating a delicious breakfast at Toks, then go shopping for a while and finally watch a movie in their movie theaters. There are many other dining options in this complex, such as Starbucks or La Michoacana.
It also has a safe area for the little ones where they can have a good time of fun.
If you are traveling from the Hotel Zone and plan to do a lot of shopping, we recommend you to hire a Cancun Taxi service or a Cancun Car Rental. This way you won't have to worry about space and carrying too much on your trip.
7. Cancun Forum
Forum Cancun is pretty quiet during the day, but things really start to pick up after dark, as it is home to the famous Coco Bongo nightclub.
Don't miss our last post Shows at Coco Bongo Cancun.
Forum Cancun is also home to a variety of famous restaurants and bars such as Hard Rock Cafe, Chilis, Chuchito Perez and more. You will also find stores selling many souvenirs, swimsuits, jewelry and more.
During the evenings you will find a very lively atmosphere thanks to the street performers who perform in the main arena of the mall.
8. Plaza Caracol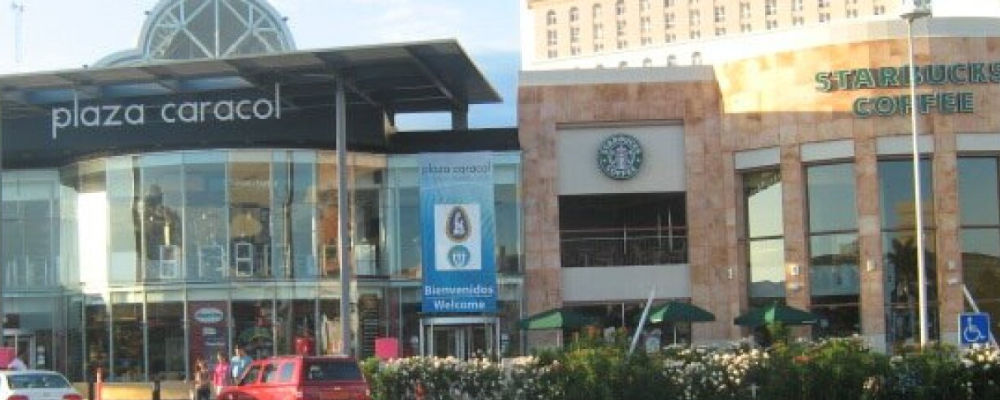 The last option on this list is a Cancun classic for over three decades. Plaza Caracol in the Hotel Zone is one of the oldest malls in the city, yet it has many shopping options, such as some fantastic jewelry stores, souvenir stores, perfumery and more.
This mall is not very big, but it has many dining options, such as Haagen-Dazs and Starbucks. If you are traveling with children, you can take them to Caribbean Puzzles where they will be entertained for a while.