Mexico overwater Bungalows you should visit in 2023
Mexico is a magical place, no one can deny that. And some want to say otherwise, you could settle the debate by mentioning the turquoise waters that surround Cancún.
But there is always room for improvement and for a very long time, hotel owners and locals have thought thoroughly about how to improve the tourism experience in Cancún, Playa del Carmen (a neighboring city 45 minutes away from the Cancun Airport), and even Tulum. And they found a brilliant idea: to go back to the cultural roots of Mayan architecture.
They got inspired by how the Mayans used to build their homes (generally one-level houses with low-pitched roofs) and put them just above sea level. The result is an amazing new way to enjoy the Caribbean sea.
Even though this kind of accommodation sounds expensive, don't worry, there are also the cheapest overwater bungalows that could be perfect for your budget.
Without further due, let's get started with what we think are the best Mexico overwater bungalows in Cancún and Playa del Carmen.
Rosewood Mayakoba — Mexico's Riviera Maya
If you want to experience Mexico overwater bungalows in one of the most luxurious accommodations in Mexico, Rosewood Mayakoba is the place for you. These luxurious overwater bungalows offer a once-in-a-lifetime experience. With almost 130 suites available for guests, this family friendly resort mixes two elements for anyone that want to escape from reality: a peaceful jungle and an elegant place to stay.
If you want to live the most exclusive experience, the Deluxe Lagoon Suites are tailor-made for you. Rosewood Mayakoba is committed to privacy by offering guests a private atmosphere with a private deck in their rooms. The downside is you could be one mile away from the beach.
On the other hand, if you want to experience one of the best overwater bungalows and stay surrounded by the amazing jungle nature, the lagoon suites are tailor-made for you. One of the best luxury overwater bungalows available in the world is just a click away, don't hesitate to get in contact with them.
Contact info:
Ctra. Federal Cancún-Playa del Carmen KM 298 Solidaridad, Q. Roo, CP 77710 MX
Social media: Rosewood Mayakoba Instagram
Prices: From 1200 USD
Banyan tree Mayakoba - Riviera Maya, Mexico
Another option for experiencing Mexico overwater bungalows is the newest Banyan tree Mayakoba. Just opened in 2022, this place has already made a name for itself as one of the most well-known overwater bungalows resorts at Riviera Maya. And of course, people already recognize this spot because they have one of the best Mexico overwater bungalows.
This resort is just next to Rosewood Mayakoba and offers similar services to its neighbor. But what's the difference between these two outstanding options to visit the Caribbean Sea? The Asian design influence at Banyan. Obviously, Banyan tree Mayakoba doesn't get far away from the standard of the hotel's group standards. Also, the Asian influence can immediately be seen when you enter their overwater suites.
When it comes down to the service, you can feel the unique Asian hospitality in Mexico.
Contact info:
Highway Chetumal – Juárez KM 298 Riviera Maya 77710 Playa del Carmen, Quintana Roo Mexico
Social media: Banyan Tree Mayakoba Instragram
Prices: From 1000 USD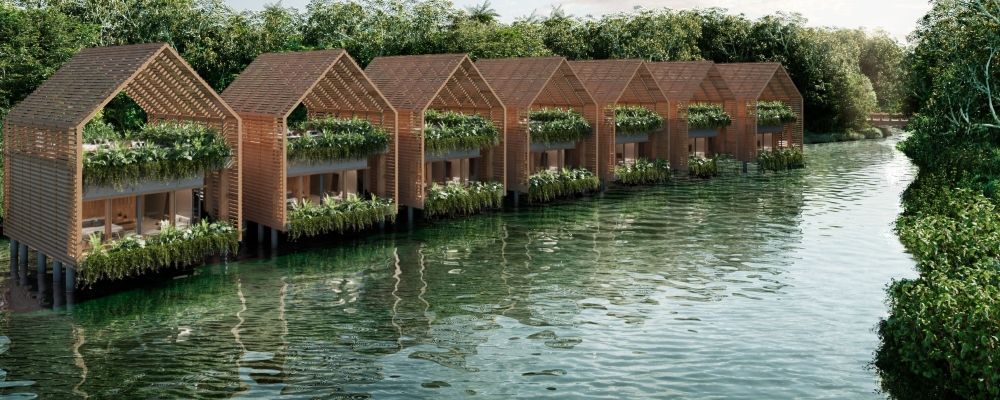 El Dorado Palafitos overwater bungalows - Maroma Beach, Mexico
El Dorado Maroma beach is another perfect option if you want to explore overwater bungalows in Mexico. Be amazed by a villa view of the surrounding sea. If you want to experience authentic privacy while watching the sunrise and sunset from the comfort of a private deck, don't think much about it and start planning your visit. If this wasn't enough, you can walk on water here (no jokes).
The administration decided to put glass floor panels so you can experience the sea as no other people had. They also have private infinity pools, just in case you need more time for yourself.
Palafitos overwater bungalows were the first overwater bungalows of their kind, they are pioneers in this kind of experience. You can be completely sure El Dorado Maroma staff are experienced enough to manage your stay at Maroma beach. And in case you were wondering, this is an adults only resort.
Contact info:
Carr. Cancún – Tulum Km 55.3, 77710 Playa del Carmen, Q.R
Social media: El Dorado Resorts Instragram
Prices: From 1200 USD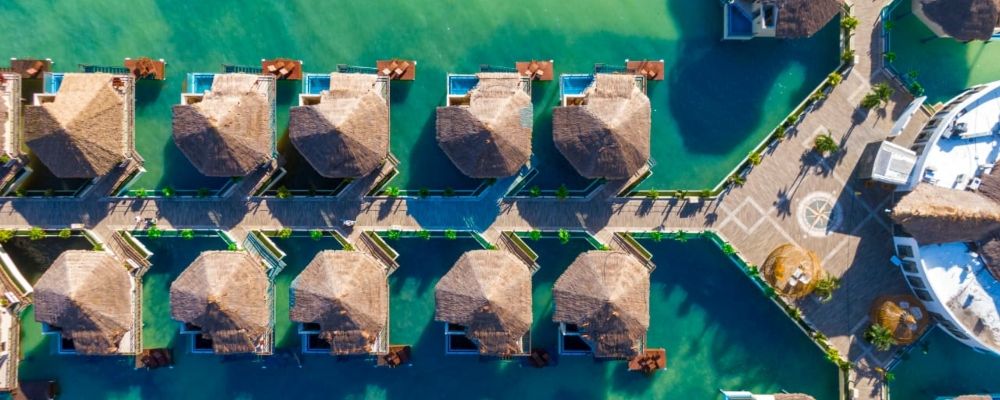 Centro Holistico Akalki - Bacalar, Mexico
This sanctuary of relaxation is not far away from the Belize border (30 minutes away). Although it has a distance from the major airport in Quintana Roo (Cancun Airport) the long hours on the highway are worth it.
This is not a luxury hotel, but it keeps the most important aspect of an overwater bungalow resorts: its connection to nature. Here is where you come to reconnect with nature and witness the turquoise Caribbean Sea in Bacalar (the renowned, stunning seven-color lagoon). If you want to stay here, you mustn't think about it too much because there are only eleven suites available.
If these aren't enough reasons to book here, maybe their yoga classes in front of the lagoon's turquoise waters or their spa might persuade you to give Akalki a shot.
Contact info:
Carretera Federal 307 Km. 12.5 Bacalar ( Xul-Ha) Othón P. Blanco, Quintana Roo, México, 77900
Social media: Centro Holistico Akalki Facebook
Prices: From 350 USD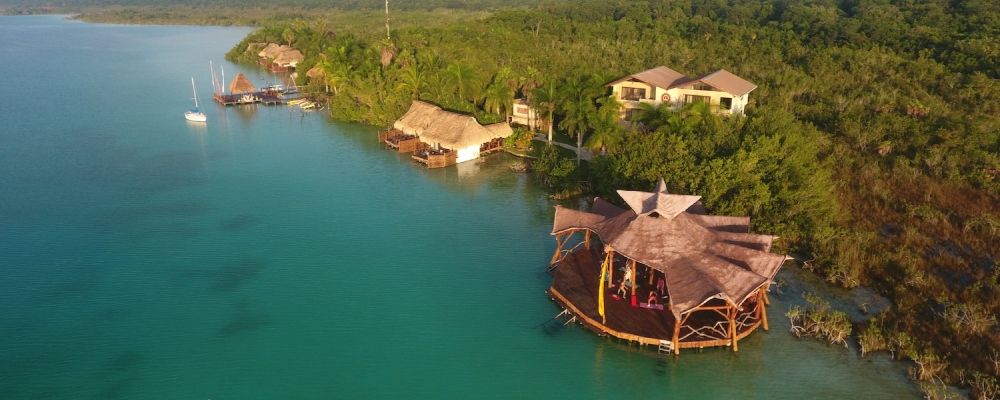 Hotel Ma'xanab - Tulum, Mexico
This amazing hotel offers everything you need for your dream vacation in one of Mexico's most amazing places, Tulum. Although is far away from the Cancun International Airport, is worth your time on the highway.
Do you want to relax inside the beautiful suites? No problem; with an amazing ocean view, you will forget your problems instantly. Do you want to go out and dive into the fascinating Tulum town? No problem, the Hotel zone is just 10 minutes away.
There you can find everything you want, restaurants, beach clubs, and bars. Hotel Ma'xanab has one of the best Mexico overwater bungalows that Quintana Roo and here you can choose between having a relaxing gateway from the city rush or spending the night partying. You get to decide which side of Tulum you want to live on! Definitely, Where else in the world could you experience these options?
Contact info:
Municipio de Tulum Boca Paila, 77760 Tulum, Q.R.
Social media: Maxanab Instragram
Prices: From 630 USD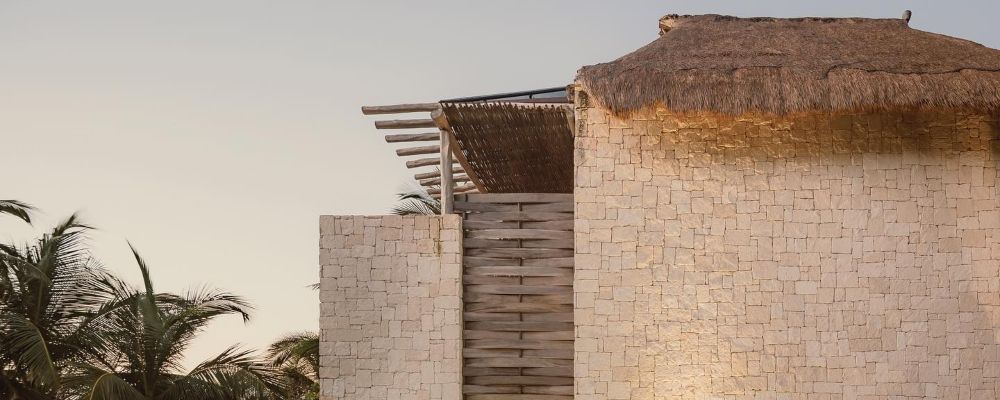 Why should you book in Mexico overwater bungalows in Mexico?
Mexico and Cancun have a lot to offer. Beautiful beaches, amazing views of the Caribbean Sea, and magnificent food. After all, there is more than just one way to discover how amazing Mexico is. But if you're looking for the best way to relax and just escape from the world, you must visit the best overwater bungalows in Mexico. Maybe they are far away from the Cancun Airport, but it is completely worth it.
If you have any doubts about how to get from Cancun Airport to Playa del Carmen, check our recommendations to get safe and sound to your hotel.
In case you don't know what Bungalows are, don't worry, we'll tell you exactly what they are. Houses that only have one level (no stairs) and low-pitched roofs. Usually, this kind of building is associated with simple designs (or even made from natural materials).
Now picture yourself staying inside one of those, with a view of the turquoise waters, enjoying the magnificent turquoise Caribbean Sea, and unlimited privacy.
Want a private patio? Do you need 24-hour room service? You got it. Private pool? You got it. Do you need to keep in shape? Just visit their fitness center! Some options offer this and much more!
We must say it is close to Playa del Carmen, one of the most important cities in Quintana Roo. Don't feel anxious if you want to escape from your hotel room and explore one of Mexico's most popular places. Remember, most of these resorts are committed to saving the environment, so everything here tries to be as eco-friendly as possible. In the end, you couldn't enjoy this experience without taking care of the jungle, mangroves, and the sea.
We hope this guide helps you to realize that visiting overwater bungalows in Mexico is a must for your next visit.