Isla Saona (Saona Island), Dominican Republic
2023 Island Guide - Top Rated Excursions from Punta Cana, Best Things To Do, Visiting Tips
Saona Island, located just off the coast of Punta Cana in the Dominican Republic, is a tropical paradise that beckons travelers from around the world. Renowned for its breathtaking beauty and untouched natural landscapes, Saona Island offers an enchanting escape from the hustle and bustle of everyday life. With its pristine white sand beaches, crystal-clear turquoise waters, and lush greenery, this Caribbean gem promises an unforgettable experience for those seeking tranquility, adventure, and a taste of paradise.
As you step foot on Saona Island, you are immediately greeted by a sense of serenity and awe-inspiring surroundings. The island's beaches stretch as far as the eye can see, inviting you to sink your toes into the soft, powdery sand and bask in the warm tropical sun. The turquoise waters that lap the shore are a playground for marine life, making Saona Island a haven for snorkelers and scuba diving enthusiasts. Dive beneath the surface and discover a vibrant underwater world teeming with colorful coral reefs, tropical fish, and other fascinating creatures.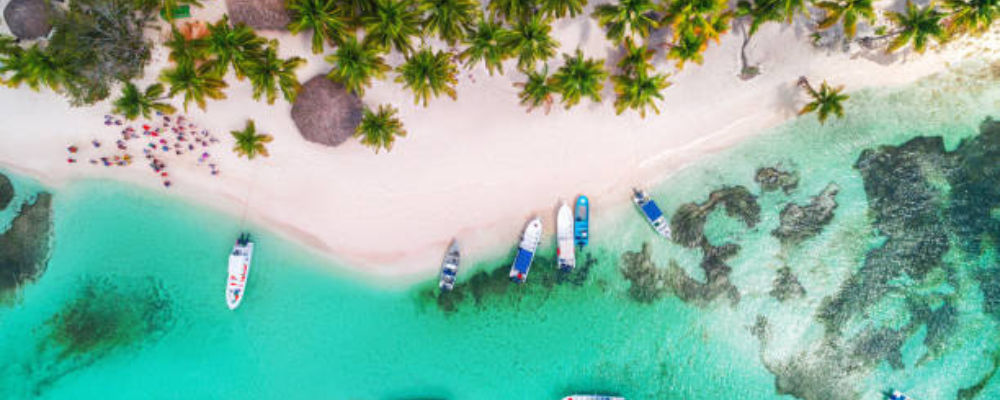 Beyond its stunning beaches and underwater wonders, Saona Island is also home to captivating natural attractions. Explore the island's lush mangrove forests, where you can kayak or take a leisurely boat ride, immersing yourself in the tranquility of this unique ecosystem. Discover hidden lagoons and channels that wind through the mangroves, offering glimpses of the diverse wildlife that call this area home. Keep an eye out for herons, pelicans, and even manatees that occasionally grace the waters.
To enhance your Saona Island adventure, numerous tour operators offer excursions from Punta Cana, providing convenience and expert guidance. Whether you choose to travel by speedboat or catamaran, the journey to Saona Island itself is a delightful experience, offering picturesque views of the coastline and the opportunity to spot dolphins dancing in the waves.
Top-Rated Tours to Saona Island from Punta Cana - Dominican Republic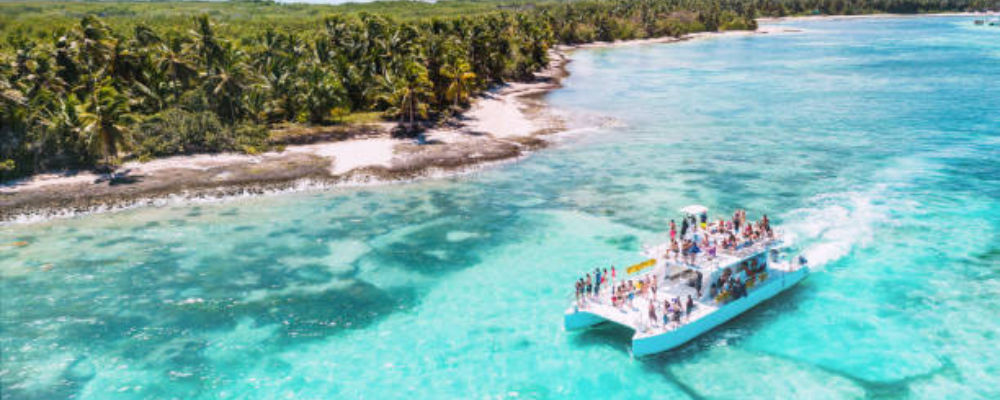 Saona Island Sailing Tour with Private Transportation from Punta Cana
Maximize your vacation time by opting for an exclusive Saona Island tour, designed for groups of six or more travelers. Say goodbye to the early morning rush as you enjoy a convenient private ground transfer. Relax in a modern air-conditioned van and experience a comfortable journey. Indulge in shared transfers to the island via a speedboat and catamaran, ensuring a delightful travel experience.
Saona Island Paradise From Punta Cana
Embark on a memorable full-day excursion to the picturesque Saona Island, reached by both speedboat and catamaran. Swiftly glide across the water on a high-speed vessel, granting you ample leisure time to unwind, partake in thrilling water activities, or simply soak up the serene atmosphere. On the return journey, enjoy the gentle sway of a sailboat, where you can sip refreshing beverages from the open bar and dance to the captivating rhythms of the island. With convenient hotel pickup and drop-off, your round-trip adventure is hassle-free and seamless.
Saona Island VIP - Full Day Excursion
Exploring the numerous attractions of Saona Island can be overwhelming without insider insights. Simplify your experience and leave the itinerary planning to the experts with this thrilling full-day tour. Enjoy a picturesque drive through sugarcane plantations before boarding a boat to Mano Juan, where you can admire its unique wooden architecture. The excursion also includes visits to a turtle sanctuary, a natural pool, and the secluded Canto de la Playa beach, where you can indulge in a delectable private buffet accompanied by refreshing drinks. With this curated itinerary, you can make the most of your time on Saona Island without the hassle of planning.
Small Group & Private Tours to Saona Island - Dominican Republic
Saona Island Day Trip with Private Ground Transportation
Saona Island stands as one of the Dominican Republic's top attractions, drawing in countless visitors. Nonetheless, opting for a standard tour often entails enduring lengthy bus rides. Streamline your experience and maximize your time by reserving this tour, featuring exclusive private ground transfers tailored specifically to your group. Benefit from a later pickup and earlier drop-off, enabling you to make the most of your day. This comprehensive package encompasses shared transfers via catamaran and speedboat, a delectable buffet lunch, and an open bar serving refreshing rum drinks and beer.
Saona Island Private Small Group
Leave behind the bustling crowds of Punta Cana and embark on a private excursion to the captivating offshore destination of Saona Island. Bask in the luxury of an open bar and personalized service provided by the attentive crew as you set sail towards this idyllic island. Upon reaching your destination, relish the opportunity to indulge in the sun-drenched shores, immersing yourself in the blissful ambiance. Delight in a mouthwatering lunch, thoughtfully included in the package, and quench your thirst with an array of additional beverages from the well-stocked bar. Throughout the day, experience the utmost comfort and attention, ensuring a truly memorable and tailored journey.
The Pleasures of Saona Island - Dominican Republic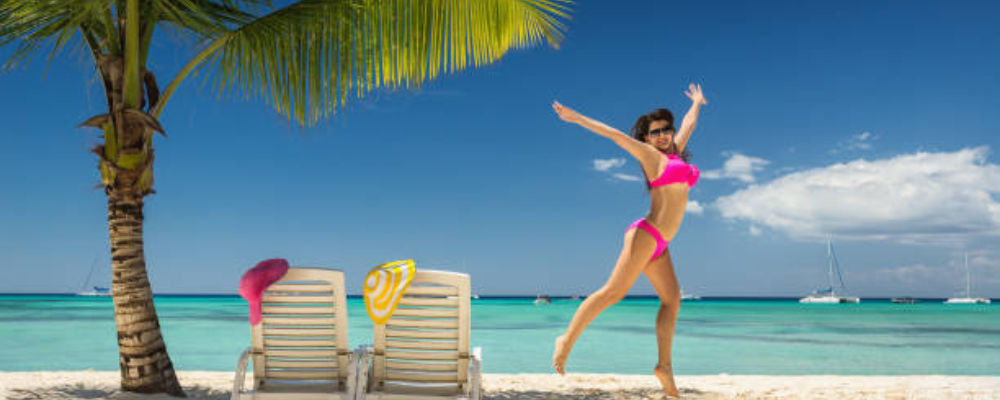 The Vibe:
Saona Island exudes a serene and laid-back vibe that is irresistible to visitors. As you step foot on the island, you'll immediately sense a tranquil atmosphere that allows you to escape the hustle and bustle of everyday life. The peacefulness of Saona Island creates the perfect setting for relaxation and rejuvenation. Whether you choose to lounge on the beach, sway in a hammock, or take a leisurely stroll along the shoreline, the island's soothing ambiance will envelop you in a sense of tranquility.
The Water:
The crystal-clear waters surrounding Saona Island are a sight to behold. The turquoise hues are simply mesmerizing and invite you to dive in and explore the underwater wonders. Snorkelers and scuba divers will be treated to an extraordinary marine ecosystem, filled with vibrant coral reefs and a kaleidoscope of tropical fish. Swim alongside graceful stingrays, encounter colorful starfish, and witness the natural beauty of the ocean firsthand. The pristine waters of Saona Island provide an unparalleled experience for water enthusiasts.
The Beach:
Saona Island boasts pristine beaches that are postcard-perfect. The soft, powdery white sand and swaying palm trees create an idyllic setting for relaxation and indulgence. Unwind on a beach towel, soak up the sun, and listen to the gentle lapping of the waves. The beaches of Saona Island are ideal for long walks, beachcombing, and simply appreciating the natural beauty that surrounds you. Whether you prefer a secluded spot or a lively beach scene, Saona Island offers a variety of beach options to suit your preferences.
The Experience:
Visiting Saona Island is an unforgettable experience that combines natural wonders with cultural discoveries. Explore the island's charming fishing villages, where you can witness the local way of life and interact with friendly residents. Marvel at the unique wooden architecture of Mano Juan and learn about the island's cultural heritage. Delve into the island's natural treasures by exploring mangrove forests, where you can kayak through tranquil waterways and observe fascinating wildlife. Indulge in a delectable lunch featuring fresh seafood and local specialties, immersing yourself in the flavors of the Dominican Republic. Whether you're snorkeling in vibrant coral gardens, swimming in natural pools, or simply enjoying the serenity of Saona Island, the experience is sure to leave a lasting impression.
Saona Island in the Dominican Republic offers an array of pleasures for visitors to revel in. From its tranquil vibe and inviting waters to its pristine beaches and immersive experiences, the island promises a blissful retreat in a tropical paradise. Whether you seek relaxation, adventure, or cultural exploration, Saona Island delivers a memorable and enriching experience that will linger in your memories long after you depart.
Best Things to Do in Isla Saona (Saona Island) - Dominican Republic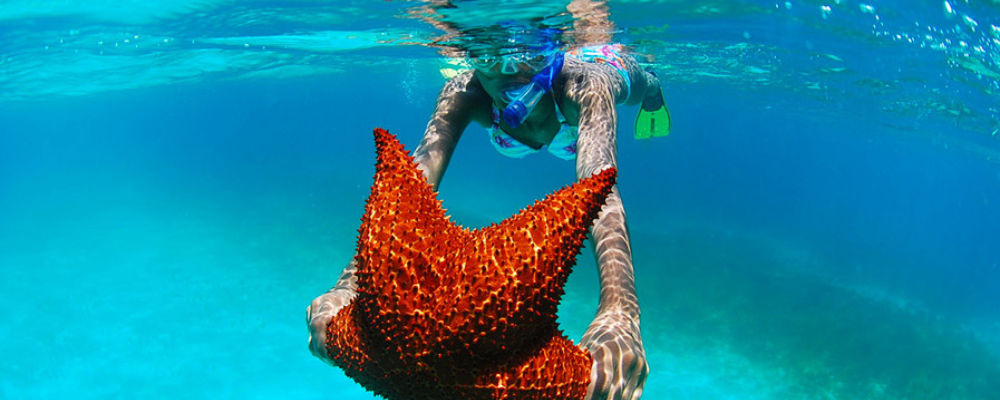 Saona Island in the Dominican Republic offers an array of incredible experiences for visitors seeking a tropical paradise getaway. With its pristine beaches, cultural charm, and diverse marine life, this island destination is a dream come true. Let's explore the best things to do on Saona Island:
Enjoy Beaches
Saona Island is renowned for its breathtaking beaches, and two must-visit spots are the Natural Pool and Canto de la Playa Beach. The Natural Pool is a unique phenomenon where waist-deep crystal-clear waters create a shallow sandbar in the middle of the ocean. It's the perfect spot to relax, soak up the sun, and enjoy the refreshing surroundings. Canto de la Playa Beach, on the other hand, offers a serene and secluded ambiance with its palm-fringed shoreline and turquoise waters. Spend your day basking in the sun, swimming, and immersing yourself in the beauty of these picturesque beaches.
Shop & Dine at Mano Juan
Make your way to the charming fishing village of Mano Juan, where you can shop for local crafts and souvenirs. Explore the small shops and markets, and discover unique handmade jewelry, artwork, and traditional Dominican handicrafts. After your shopping spree, treat yourself to a delightful culinary experience at one of the village's cozy restaurants. Indulge in fresh seafood dishes, savor local flavors, and enjoy the friendly hospitality of Mano Juan.
Snorkeling
Dive into the vibrant underwater world surrounding Saona Island through snorkeling. Strap on your snorkel gear and explore the coral reefs teeming with marine life. Witness an array of colorful fish, graceful rays, and other fascinating sea creatures. The clear waters offer excellent visibility, allowing you to fully appreciate the underwater wonders. Snorkeling on Saona Island is an exhilarating adventure that will leave you in awe of the island's rich biodiversity.
Scuba Diving
For certified divers, Saona Island presents an opportunity to explore the depths of the Caribbean Sea. Dive into the azure waters and embark on an unforgettable underwater exploration. Discover hidden caves, intricate coral formations, and encounter diverse marine species up close. With experienced dive operators, you can safely navigate the underwater world and create lasting memories of your scuba diving adventure.
Go for a Hike
Saona Island's natural beauty extends beyond its beaches. Lace up your hiking shoes and embark on a scenic hike through the island's lush landscapes. Traverse through mangrove forests, encounter exotic flora and fauna, and marvel at the captivating surroundings. The hiking trails on Saona Island offer a chance to connect with nature, breathe in the fresh air, and discover the island's hidden gems.
Visit the Turtle Recovery Center
Saona Island is home to a turtle recovery center dedicated to the conservation and protection of sea turtles. Take a guided tour and learn about the center's important work in rehabilitating and preserving these majestic creatures. Get up close with turtles and gain insight into their natural habitat. Participate in educational programs and, if you're lucky, witness the release of rehabilitated turtles back into the ocean. A visit to the turtle recovery center is an opportunity to contribute to environmental conservation and raise awareness about the importance of preserving marine life.
Getting to Isla Saona (Saona Island) - Dominican Republic
Getting to Saona Island in the Dominican Republic is an exciting adventure that allows you to immerse yourself in the natural beauty of this tropical paradise. Here's what you can expect when planning your journey:
Most charters include: When booking a tour or charter to Saona Island, several things are typically included to ensure a hassle-free and enjoyable experience. These may include round-trip transportation from your hotel or a designated meeting point, boat transfers to and from the island, and the services of knowledgeable guides who will provide information about the island and its attractions. Many charters also offer a buffet lunch and beverages during the excursion, allowing you to savor local flavors and stay hydrated throughout the day.
Suggested items to bring
Sunscreen and a hat

Swimwear and a towel

Waterproof beach bag

A little cash and ID copy

Waterproof case for your Smartphone

Small case with medically necessary medications
Interesting Facts - Saona Island, Dominican Republic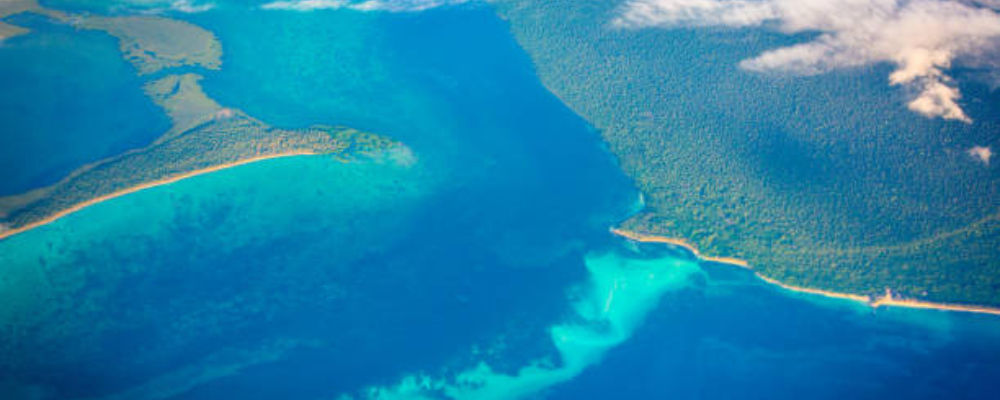 Interesting Facts - Saona Island DR
It was the set for a Bounty Chocolate bar advertisement.

Some Hollywood scenes filmed on Canto de la Playa Beach in Saona Island are from Pirates of the Caribbean and The Blue Lagoon.
Basic Facts - Saona Island, DR
Location: Saona Island, also known as Isla Saona, is located in the southeastern part of the Dominican Republic. It is situated off the country's mainland in the Caribbean Sea.

Width and Length: Saona Island spans approximately 9.2 miles (14.8 kilometers) in length and 2.5 miles (4 kilometers) in width.

Area: The island covers an area of about 42 square miles (110 square kilometers). Its expansive coastline is lined with stunning beaches and turquoise waters.

Highest Elevation: Saona Island is relatively flat, with its highest point reaching an elevation of only around 39 feet (12 meters) above sea level. The island's topography is characterized by sandy beaches, palm trees, and mangrove forests.

Province: Saona Island falls under the jurisdiction of the La Romana Province in the Dominican Republic. The nearby town of Bayahibe serves as a gateway for visitors traveling to the island.

Country: Saona Island is part of the Dominican Republic, a Caribbean nation located on the island of Hispaniola. It shares the island with the country of Haiti.

Population: Approximately 400.
A Little History -Saona Island, DR
Indigenous Taíno Presence:Saona Island was originally inhabited by the Taíno people, an indigenous population that thrived in the Caribbean. The Taíno culture was characterized by their skilled agriculture, advanced social structure, and rich spiritual beliefs. They lived harmoniously with the island's natural resources, relying on fishing, farming, and gathering for sustenance.

Christopher Columbus and the Encounter: During his first voyage to the Americas in 1492, Christopher Columbus encountered Saona Island and the surrounding areas. Columbus and his crew were astounded by the island's beauty and its abundant natural resources. This encounter marked the beginning of European exploration and colonization in the region.

Name Change: Initially known as Adamanay by the Taíno people, Saona Island underwent a name change. It was renamed "Saona" by Columbus after the province of Savona in Italy, his birthplace. This name has persisted through the centuries and is still used today.

Cacique Cotubanamá: During the early 16th century, the influential cacique (chief) Cotubanamá ruled over Saona Island and the neighboring areas. Cotubanamá was a prominent figure among the Taíno people, known for his leadership and resistance against Spanish colonization. His efforts to defend the island and its inhabitants against European forces have left a lasting legacy in the history of the region.

Events in the 1500s: In the 1500s, Saona Island, like many other parts of the Caribbean, became a focal point of Spanish colonial expansion. European settlers established settlements and exploited the island's resources, primarily focusing on agriculture and the extraction of valuable commodities. The Taíno population experienced devastating impacts due to disease, forced labor, and conflict with the colonizers.