But people here see that tourists arriving at Cancun's Airport will more likely have their transport arranged by their hotel or tour company or paid for in advance.
But if you are still looking to get somewhere, although you haven't booked anything, don't worry. There are many options for those who arrive without booking transportation.
But beware, it can be overwhelming and confusing.
We know that booking airport pickups online without knowing the company can cause many problems. And you may have read or listened to people say drivers do not turn up to pick them up, or worse, getting picked up by a car that doesn't quite fit all the people it's supposed to transport.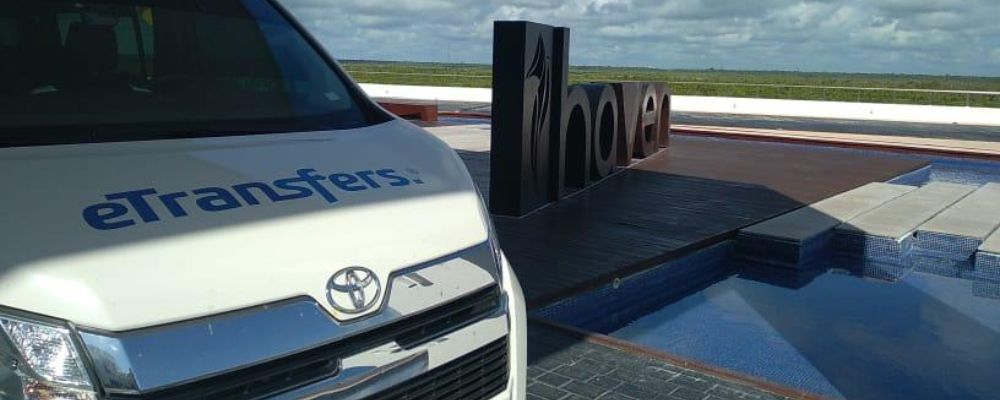 Which is the best transfer company in Cancun Airport?
Although it is a tough question, eTransfers is simply the best transportation company from the Cancun International Airport.
Most of the passengers have received nothing but 5-star service every time. Their vehicles are always clean, and the staff can always manage last-minute changes and bookings.
They are so kind that they are the right company for anyone that looks for a perfect balance between the price and benefits.
And they have the best of both worlds, Luxury and Budget Options.
Budget and Luxury vehicles
Their van transfers are affordable and clean, offering a safe and comfortable ride. The vehicles can carry a maximum of eight people. In addition, they are private, so passengers won't have any problems like sharing the ride with strangers. And, of course, if you are staying in the hotel zone, you will be able to get to your hotel as fast and safely as possible.
Prices For Vans
The price depends on which type of service you are choosing. Their Economic plan for private transportation starts from 50 USD. With this plan, you can have a private shuttle for a maximum of eight people, and it can fit seven suitcases.
For their premium van services starting from 55 USD, you can have many amenities like free cancelations, unlimited booking modifications, and even some food or drinks if you want them. So when you finally get to Cancun, you will have something to eat.
Roundtrip Prices For Vans
Roundtrip costs for vans (up to 3 people, prices may vary after that) start at:
$50 USD for the Cancun region
$100 USD for Playa Del Carmen area
$180 USD for Tulum area
Vans can easily be booked online.
Luxury Pickups
They have two types, Chevy Suburban and a Chevrolet Expedition, for Luxury transfers. VIP vehicles can fit up to five passengers and are entirely private, just like their vans.
Roundtrip Prices for VIP
For a roundtrip from the Cancun area, they can charge you 240 USD. 340 USD if you have to go to Playa Del Carmen and $500 USD for Tulum.
A Last minute booking story
Although we usually have everything planned, anything can change in minutes and happen to any of us. For example, once, I was traveling with my family, and we were already at the Cancun International Airport. Still, the service we previously booked simply didn't work for us in the end.
We were really worried about how we would get to our hotel, so we decided to try the eTransfers service.
We were surprised by how fast they arranged everything; the booking and payment were quick. Although we were worried about how we would pay, we calmed down immediately since they accept both credit cards and Paypal.
After that short visit to the counter, suddenly, we were already on our way to our vehicle. There, an agent was ready to help us. He helped us carry our luggage and welcomed us properly to Cancun.
For the ride, we chose a Suburban, and I was nervous and wondered if they could get the car ready for us on such short notice.
But it was there in front of us, shining how clean it was, with enough space to fit all my family. Then, just before departing, the driver gave us water and soda (of course, I knew we paid for this, but since it was a last-minute thing, I was still surprised these guys pulled it off).
I forgot to mention this happened in early 2022, and the COVID restrictions were still harsh. We were always using our face masks, and so was our driver. He even had hand sanitizer in the backseat.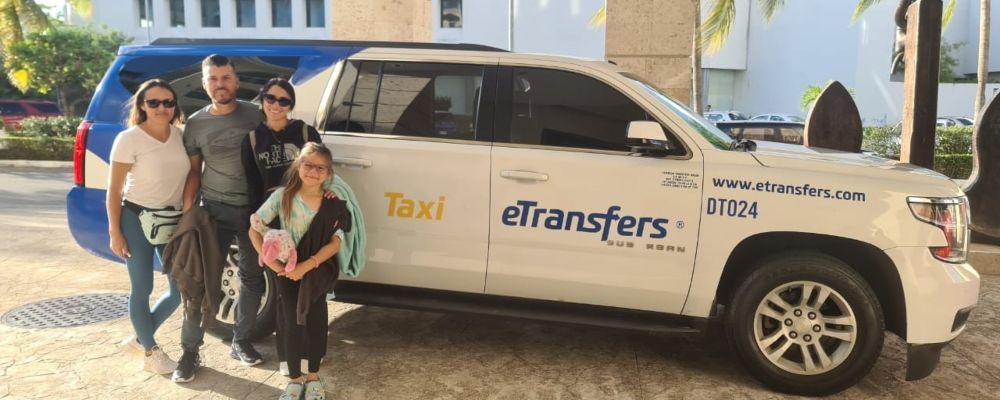 But the real test was what it thought would be a chaotic ride to Playa Mujeres' Atelier hotel. We knew the road was under maintenance and could be a long way to go, but we were lucky since it was just a 45-minute drive.
Inside the car, we didn't feel anything. This made me remember the last time I visited Mexico and booked a transport, the vehicle had its suspension ruined, and I could be how bumpy the road was. But this car was completely different.
Some days later, we were lucky enough to have the same experience: our driver was already waiting for us holding a sign with our names on it. Of course, once again, he helped with our luggage.
Since then, I've loved this company so much that when I take a business trip to Cancun or Tulum, I always book with them.
They are always on time and do everything professionally. Ultimately, I thought this business came down to having enough vehicles and staff to make it work, but their drivers and people on the counter made me realize that their attitude takes them apart from every other company.
I can only recommend eTransfers to anyone looking for a professional place with unparalleled service to get to or from the Cancun airport.